Track, Control and Optimize your 365 spending and usage
---
Microsoft 365 and Office 365 subscription licenses do weight a significant part of your Microsoft contract expenses. Which plans & add-ons have you subscribed for ? Who have they been assigned to ? Are these licenses really used ? Is it worth it ? ... Just a few examples of questions you would like to get immediate answers.
---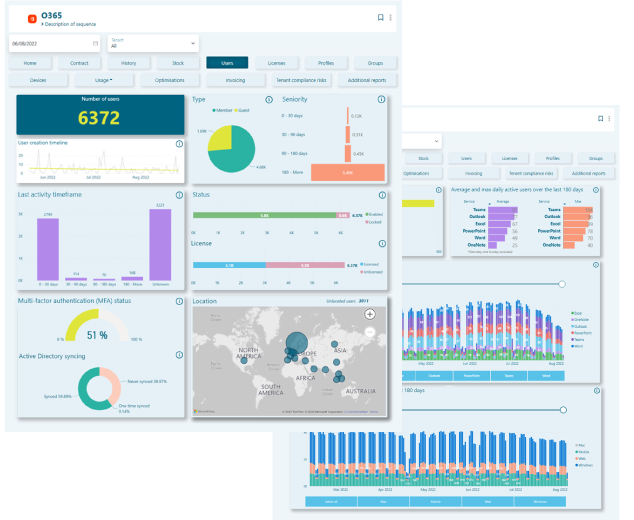 How does it work?
You've got all the data. Now let's get value out of it.
Activate SamBox.io App onto Azure
Activate your user accounts onto SamBox.io. Instantiate our turnkey SamBox.io App onto your Azure subscription. Give us half a day to reflect key figures of your Microsoft contract & customer price sheet. And that's it. 2 hour work, and we are ready to start.


Let the data collection routine populate the dashboard
Our daily data collection job will grab all relevant pieces of information about licenses, users, plans, dates, reports. Only 3 days are needed to populate 100% of the dashboard.
Launch the dashboard & start managing your 365 contract
Start the dashboard and browse the different menus. Get to know what you have, what you use, and how you can immediately implement some cleaning and optimization actions. Let the dashboard get refreshed everyday, track the changes, the evolution, and continuously identify new optims day after day.